The Stables
Dirección de contacto
Postal address

C/ Gil y Carrasco, 4

Phones

987 424 236
Style: Baroque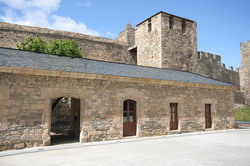 High resolution image. This link will open using lightbox, there may be a context switchLas Cuadras This neoclassical style building is an annexe to the wall of the Castle and was built in 1848 by the Council.

The different materials that were used in its construction such as door jambs and gothic windows came from the Castle.

The building was used as a stable for the market of the town that was placed right there. Is divided into two simetric parts with masonry walls reinforced by building stones.

It has a remarkable entrance dated back to the year 1848 that gives way to a cobbled paving courtyard made of tiny pebbles. The coat of arms of the town and the building date can be seen over the front door.