Routes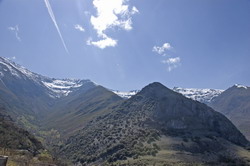 High resolution image. This link will open using lightbox, there may be a context switchMontes Aquilianos Come here and you will discover:
Peaks over two thousand meters

Narrow valleys -such as the Silence Valley-

Crossed by streams that feed the thaw

Towns in which the time has been stopped

We suggest you to get to know the spectacular landscape by exploring some of the interesting routs and walks.

Places just to contemplate, to practice activities such as trekking, or just to walk discovering a new perspective in each path.