San Andrés Church
Dirección de contacto
Postal address

C/ Gil y Carrasco s/n
Style: Baroque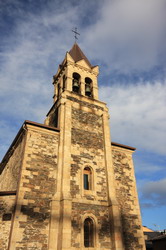 High resolution image. This link will open using lightbox, there may be a context switchIglesia de San Andrés
This temple has an important value for the Old Part of the town and it is placed at the foot of the Castle.

It has a medieval origin although the present temple is a baroque building dated back to the end of the 17th century.

It has a cross latin plan nave, a dome erected on pendentives on the crossing and a square tower with three sections.

The last section of the tower that contains the bells has been built more recently.

Inside the church there is an interesting baroque retable and a Christ dated in the 14th century, the Christ of la Fortaleza.