Church of Santo Tomás de las Ollas
Dirección de contacto
Phones

+34 987 424 236 (Tourism Office)
Date statement BIC

Cultural Monument since 1931.
Style: Mozarabic.

Go along Avda de Astorga in the urban center towards Madrid and take the turn on the left behind the University that will show you the way.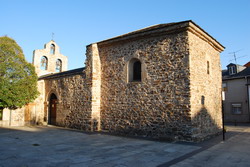 High resolution image. This link will open using lightbox, there may be a context switchIglesia de Santo Tomás de las Ollas The name of this village, Santo Tomás de las Ollas, reminds the visitor of the job that its inhabitants had: pottery. Its parish church is an excellent masterpiece of the Mozarabic art from the X century.

The temple has a rectangular plan with two chapels on the head and the left side.

The Romanesque front door from the XII century with semi-circular arches is very simple. At the foot of the church the tower with a belfry rises.

The square lateral chapel shows buttresses on its external edges and it was built in the year 1700 with a dome on pendentives.

Inside the church, a double horseshoe arch links the central nave to the main chapel, that shows an oval plan and a series of horseshoe arches.