Chapel Nuestra Señora del Carmen
Dirección de contacto
Postal address

C/ de la Loma s/n
This chapel was founded before the year 1681 by Pascual Pérez de Quindós and his wife, Isabel Crespo de Rueda.

In 1713 the Council gave the chapel to a religious order (the barefoot Carmelites), which built a hostel for the pilgrims and the poor people and controlled it until soon after 1758.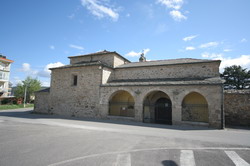 High resolution image. This link will open using lightbox, there may be a context switchCapilla de Nuestra Señora del Carmen At present the church still survives; it has a cross latin plan with an only main nave covered by a barrel vault and a dome over the crossing; two small arcaded atriums that face to the North and the South respectively and a small baroque tower with a belfry.

Inside the church the carvings of Saint Teresa, Saint José and Ntra Señora del Carmen stand out on the retable.

At present The Pilgrims Hostel is placed next to the chapel.