Thematic Fairs
For years the City of Ponferrada, supported by various associations, it has organized various exhibitions throughout the year, all with great cultural and tourist attraction.
Book Fair: For one week in April, booksellers and institutions held the week of exaltation of the book, this show has become a cultural reference point in our city.
Fair old book, old and second hand: Fair to accompany the book fair, provided a continuation of it;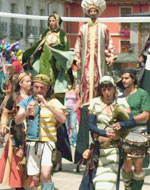 Mercado medieval which means a great climax to it.
Medieval market: On the occasion of the celebrations of the Night Templar, the old town is set in its entirety, the Middle Ages permeates every corner, the Knights Templar and the ladies of the village dressed walk, visit the stalls of the traders haggle prices ... visitors can be part of all this magic dressed in clothing of the time involved and the many activities that are scheduled.
Wine Fair: Organized as one of the promotional activities of wine Bierzo, in the center of the city, convened annually to the various wineries that make these wines, and visitors enjoyed the different varieties of wine Bierzo OJ, in a incomparable.
Exhibition of Ceramics: With over 25 years old, during the meeting the various artisans exhibit and offered for sale their works. Due to the quantity and quality of work is a fair that has a great national prestige.
Fair Folklore and Gastronomy: Fair deep-rooted in the City, which increasingly associations of various countries and regions participating in exhibitions and seminars and culinary folklore of place of origin. This festival is to coincide with the celebrations of the patron Encina, which enhances its festive nature and participation of all attendees.
Feria de la Pintura Painting Exhibition: Exhibition and traditional Ponferrada, in which the new values of the paint and exhibit their work as enshrined in the street so that all who come to enjoy.
Tapas Fair: Fair very young in its conception but it is widely accepted by ponferradinos and our visitors a chance to taste, in the planting of the park's rides, miniature flavors, offering our land.
Fair Craft: Fair at the national level, where the workshops and present their work displayed in the live performance of them, engaging the public in the development of different parts.