The Clock-Tower
Dirección de contacto
Postal address

C/ del Reloj s/n

Phones

+34 987 424 236 (Tourism Office)
Style: Renaissance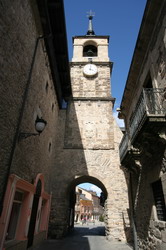 High resolution image. This link will open using lightbox, there may be a context switchTorre del Reloj The Tower of the Clock is placed over one of the doors of the only medieval wall that still survives.

It stands out over the Arch of the Eras on the way to the street Calle del Reloj (near the Council).

It has a rectangular plan with three bodies made of clay and pebble masonry except from the coins and jambs that are made of granite cutstones.

The Tower , built before the year 1567 originally had two bodies over the semi-circular arch: the lower body showed the remarkable coat of arms of Felipe II and the upper body had the clock.

In 1963 the body that keeps the bell was added; it is crowned with a tall spire.

There is an outside staircase that goes from the street Carnicerías to get to the tower.

Due to its singularity, the silhouette of the Torre del Reloj is completely linked to the image of Ponferrada.