Town Hall
Dirección de contacto
Postal address

Plaza del Ayuntamiento s/n

Phones

+34 987 414 141 (Museum of Bierzo)
Style: Baroque
The present building was nearly finished between 1692 and 1705 according to the project of Pedro de Arén.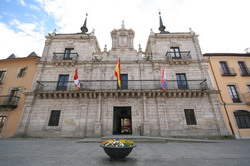 High resolution image. This link will open using lightbox, there may be a context switchCasa Consistorial Several stonework masters such as Domingo del Campo, Juan Vierna, Diego López, Santiago Gamallo, Lucas González de Pinas, Domingo García and Juan Centeno worked in its construction.

The building has a central structure with two towers that are crowned with an Austria style tall steeple.

The ground floor has several openings surrounded by a lintel and two columns on plinths frame the door.

The first floor keeps the correspondence of the decorative style in the lower floor; the most important feature is the continuous balcony on corbels surrounded by an iron rail.

The pillars transmit the architectural lines of the lower bodies to both towers where the arms of the city are shown; they also have two balconies on corbels closed with a rail.