Royal Prision
Dirección de contacto
Postal address

C/ del Reloj 5

Phones

+34 987 414 141 (Museum of Bierzo)
Style:Renaissance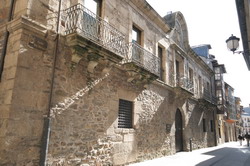 High resolution image. This link will open using lightbox, there may be a context switchReal Cárcel
The construction of this building started about the year 1565 under the guidance of the master Francisco Samper.

At present the Museum of Bierzo,is located in this building that was the judge's house, a prison and the meeting place of the Consistory in the past.

The front of the façade with a semi-circular arch is flanked by the coat of arms of the town and the Count of Toreno.

On the first floor there are five balconies on corbels and gorget. Above them the main body finishes with a round gable end and the arms of Carlos V.

The building has a nearly square plan and it is structured around a central courtyard where a well that has recently been restored was placed.

In 1799 the building was completely redesigned and in 1995 it was restored by the architect Andrés Lozano in order to provide space for a museum.