Museum of El Bierzo
Dirección de contacto
Postal address

C\ del Reloj, 5

Phones

+34 987 414 141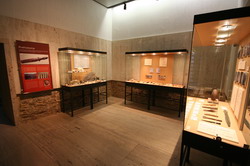 High resolution image. This link will open using lightbox, there may be a context switchMuseo del Bierzo
The Museo del Bierzo results from an idea that had been developed for a long time. Although the Municipal Council had approved of it in 1996, it began to take shape from 1984 with a project devoted to redesign an old building situated in the street Calle del Reloj.

The works went on until 1996 and turned into the Museum a place built between 1565 and 1572 that had been the meeting point of the Council, the prison of the town and the home of the judge.

The collection of the Museum is made up of pieces that come from different places and offers a whole tour on the history of Ponferrada and El Bierzo.


High resolution image. This link will open using lightbox, there may be a context switchMuseo del Bierzo A tour that starts in the Paleolithic with some cultural material objects and gets to the beginning of this century with some interesting examples of industrial archaelogy.

In the middle, the Roman settlement and Las Médulas, the visigothic period and its active monastic life in the Valley of Oza, Ponferrada Castle, with a whole room devoted to it, the valuable gold and silver articles or a collection of coins with some pieces dated from the Middle Ages to the 20th century.